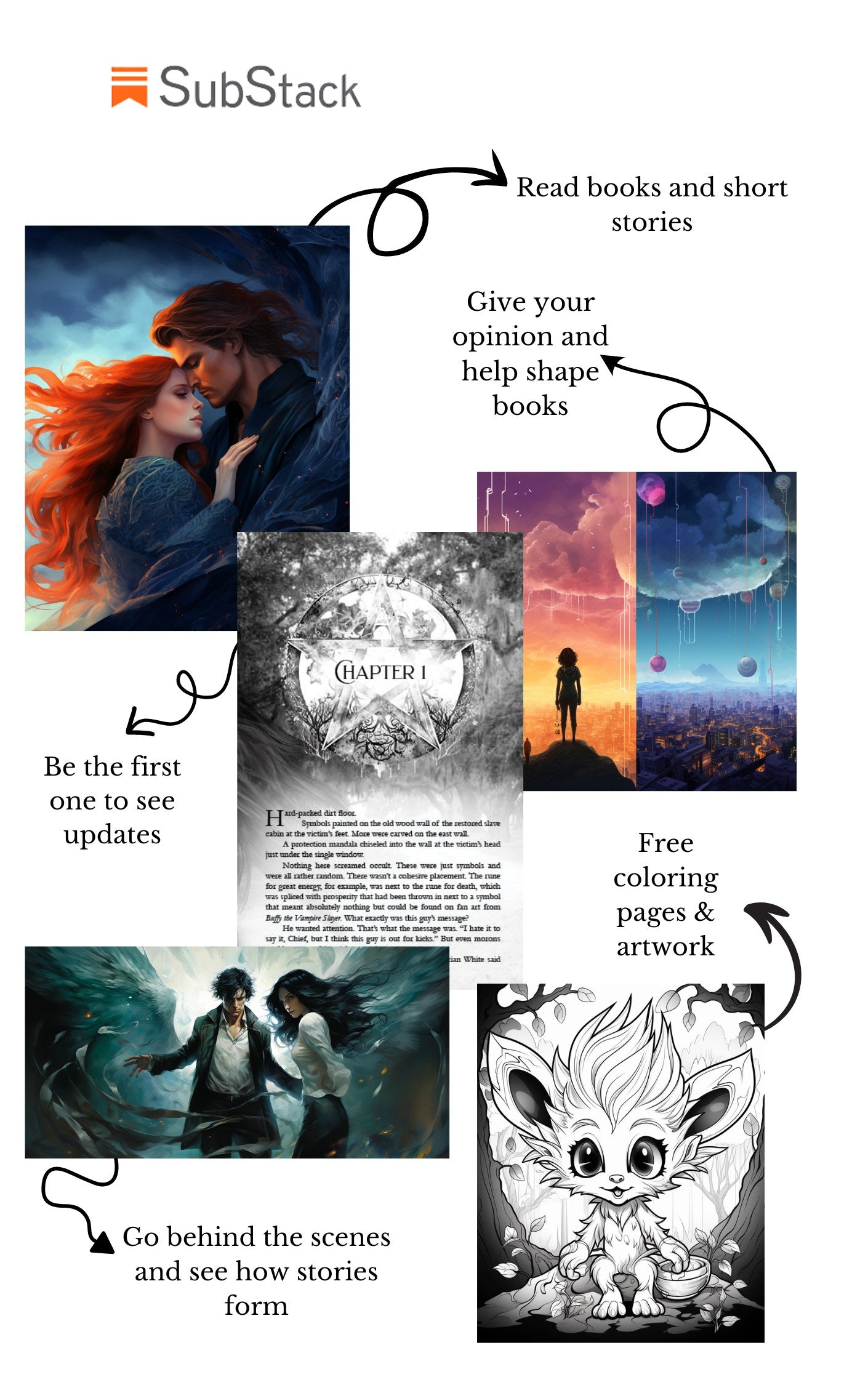 Subscribe and Read More
Whistling Book Press is teaming up with our authors on Substack by helping them create high-value blogs you can follow with ease.
Wake up each morning with new behind-the-scenes articles, new chapters to books, new completed novels and novellas, short stories, and more! You can read books before they're published and provide your opinion as they write!!
Substack is an app you can easily read on your phone, computer or tablet. It's set up so you can read the content in your email as well.
In Substack, you have complete control. How many emails you receive. How many authors you support free and paid.
And Substack is a great place for authors to gauge the content you want. As they test different story ideas, story lines, character arcs, and SWAG ideas, you have direct access to providing your incredibly valuable opinion. Support the things that interest you.
Substack Benefits
Relationships

Get to know your favorite authors better by stepping into the worlds they build. Share in their writing journey and offer your own experiences to help them create better characters and stories you want to read. This is a great place for authors to test-drive ideas. You'll become a part of their author business with your interactions and support.

Supporting Authors

Not all Substacks are set up subscription-based. There is a lot of highly valuable, free content. This is a writing platform for authors to share what they love most, and to help them build their platform in a way that's natural for them. Talking with your author and offering support is just as valuable as paying for subscriptions.

Ease

Following your favorite authors has never been easier. The Substack app is easy to download and carry with you everywhere you go. It's easy to manage your subscriptions and to cancel those you don't want to keep. Wake up each morning with amazing new content that will motivate you to conquer your day!
Frankie Jo's Storyland
Here's a taste of what you'll gain access to.
Behind the Scenes Content

Each week, Frankie freely shares something about her process, what inspired certain scenes, how she comes up with characters, or interviews, witchy goodness, research discoveries, and more. You can find the articles that interest you by scrolling through the top menus: Book News, Witchcraft, Power of Reading, and Author Talk.

Here is a sampling of what you'll discover.

Surviving Despair Through Fiction
Witchy Ways To Use Yarrow
What To Read When Feeling Anxious
When Do You Give Up On Your Dreams?
Identifying What I Bring
Gluten & Dyslexia

Bonus Content

This is where Frankie test-drives her bonus content. She offers character interviews, past book tour articles, book evolution posts, short stories, and more!

Pizza With Synn, Dyna, & Nix (Devices Of War)
A Red So Wild (Dreamland Shorts)
Excerpt: Whiskey Witches 2007
Excerpt: Whiskey Witches 2023
Series Of Evolutions (Whiskey Witches)
Shaman Dream Oracle Deck (October Sky)
Author Interview
Lost Dreamers (Dreamland Short)
Pushstation 16 (Asho'a Short)
Coloring pages

Complete & In-Progess Books

The paid content on Frankie Jo's Storyland are her completed and in-progress books, with one exception.

Dream Lord Wars is being uploaded and provided for free in an effort to bring more attention to her Dreamland realm.

You can read these completed novels with a paid subscription:

The Dustman
Dream Killers 1, 2, & 3

You can read these on-going novels with a paid subscription:

October 2 (working title)
Sol Break

You can read this ongoing novel with a free subscription:
That Is A LOT Of Content!
To make this even better, Whistling Book Press is teaming up with her. When you buy her Substack yearly membership through us, we'll give you $10 off, giving you 2 months free.
But wait. It gets better.
Buy her books and add her Substack yearly membership on top of that and save up to 36%, giving you almost 6 months free.
Membership to Frankie Jo's Substack
Frankie Jo's Storyland is where she shares her insights into the books, chats with readers, and uploads the books she's writing as she's writing them. Currently, she's working on Dream Lord Wars, October 2, and Sol Break. 
This item is available for bundles so you can save even more. 
When you purchase from Whistling Book Press, you get two months free on top of being able to save even more by bundling. 
You'll receive an email with the subscription link. Simply follow it, log-in, download the app, and enjoy! 
Regular price
$60.00 USD
Sale price
$50.00 USD
Unit price
per
Sale
Sold out
Share